GHB International
HO PRR / LIRR DD-1 1939 Version
HO DD-1 ESU LOKSOUND 5 DCC USER MANUAL

GHB Power Trucks for the popular 'O' gauge Corgi Die Cast PCC trolley are available in three power truck styles to fit your needs. GHB makes it very easy to convert the Corgi static model into a fully operating 'O' gauge trolley model.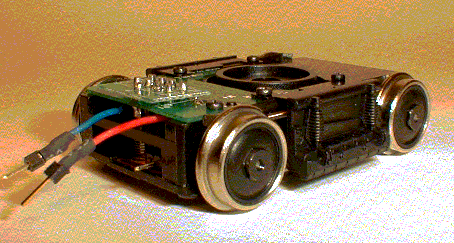 The GHB power truck exactly replaces the Corgi 'dummy' truck.
No cutting, fitting, soldering or changing anything about the Corgi model
preserving its collectibility.
The power truck kit comes with 2 power trucks, a scale operating fully
sprung PCC style trolley pole and accessory parts.
Three styles available each $149.95
#2000 For use with Lionel type 3 rail track using the center rail for power pickup AC or DC.

SOLD OUT

#2001 For use with 2 rail scale track using only DC power from the rails.

SOLD OUT



#2002 For use with 2 rail scale track using the trolley pole for DC electrical power pickup.

SOLD OUT




Check or money order accepted. Add 2% USA shipping or 10% outside USA.
Maryland residents add 5% state tax.
Order from your favorite hobby shop or send to:

GHB International
PO Box 4063
Gaithersburg, Maryland 20885
(301)515-0182 tel.
email: geoghb@erols.com

For power truck installation details click here

Photos illustrating the finished installation


Corgi Birney Streetcar Power Trucks

Large Scale PCC and Power Trucks Available

Check or money order accepted. Add $10.00 for trolley models USA shipping or $15.00 outside USA.

Maryland Residents add 6% state sales tax. No credit cards at this time.